Stefan Racing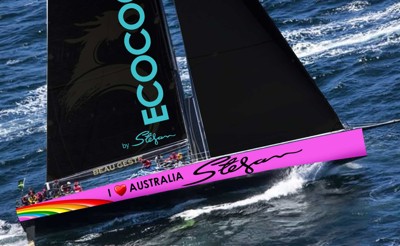 This yacht was bought late last year by the AUS 80 Pty Ltd syndicate, headed by a veteran of 27 Sydney Hobarts, Grant 'Wharo' Wharington. Top sports boat sailor Paul Heyes, marine auctioneer Adrian Seiffert and Doug Sallis are co-owners. The boat is called Stefan Racing, and is sponsored by Stefan Ackerie, owner of a chain of hairdressing salons who was best known during the seventies. He is also a power boating enthusiast This Botin 80 is the former Beau Geste and was fifth to finish on line in the 2017 Rolex Sydney Hobart and the last of five inside the 2016 race record. It was also fifth over the line in 2016 and 2013. A consistent performer, she was sailed from America (where she had been sailing as Cabron) and arrived in Australia in December 2020.
An all-carbon canting yacht, it has similar foils to a V70, with daggarboards and had been optimised to suit the IRC rule. However, Wharo says it slowed the boat down, so they have gone back to larger sails and water ballast. "We want to go as fast as we can. Its real strength is big breeze upwind and reaching. It's a very powerful boat."
Wharo's eldest son, 25 year-old Oli, will do his first Hobart, as will Sallis' 25 year-old son Jarrod and Heyes' 18 year old-son, Zac. Stefan Racing took line honours and placed fourth overall in the 220nm South East Qld Ocean Racing Qualifier. With his former super maxi Skandia, Wharington took line honours in 2003.
Competitor Details
| | |
| --- | --- |
| Yacht Name | Stefan Racing |
| Sail Number | AUS80 |
| Owner | AUS 80 Pty Ltd |
| Skipper | Grant Wharington (27) |
| Navigator | Carl Crafoord (34) |
| Crew | Paul Heyes (16), Zac Heyes, Oliver Wharington, Doug Sallis, Jarrod Sallis, Adrian Seiffert, Mark D' Emilio, Curtis Skinner (9), Peter Cosman (16), Josh Torpy, Dean Williams, Julian Clements, Andrew McCole (6), Bryce Edwards, Jim Close (3), Rory Cox, Ben Mann |
| State | NSW |
| Club | CYCA |
| Type | Botin 80 |
| Designer | Botin Partners (Spain) |
| Construction | Carbon |
| LOA | 24.0 |