Envy Scooters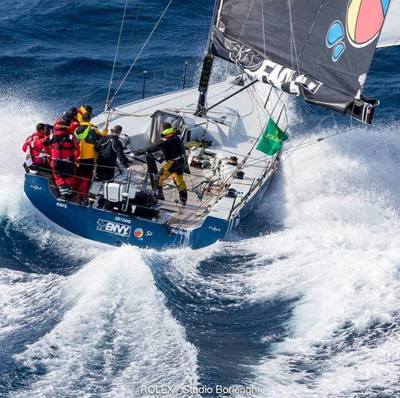 After purchasing the TP52 ENVY Scooters from Matt Allen only six weeks prior to last year's Rolex Sydney Hobart Yacht Race, the renamed Ichi Ban not only completed the Race, but was the fourth TP52 to finish after a very rushed preparation. Having achieved a very close 2nd place on IRC in this year's Brisbane to Gladstone Yacht Race behind Ichi Ban, and 2nd IRC overall in the Brisbane to Keppel Race, the boat has been thoroughly optimised throughout the year for this year's Race.
This year the team see the return of "Legend" Rafa Trujillo to bring the team together. With his Volvo Round the World campaigns and multiple Olympic Games successes in the Finn Class, he brings experience and leadership like no one else. They have brought in our Navigator, Will Harris from the UK – an experienced Figaro sailor and also heavily involved with the last Volvo Race. James Paterson from Concubine will round out the otherwise fully Queensland RQYS Team, including half of the successful Etchells crew who attained third in the recent World Championships in Brisbane, being Ash Deeks and Brian Donovan – both extremely experienced and proficient offshore sailors. Kevin Cositin, a long-time professional sailmaker, also heavily involved in high level projects including M40 and TP52 construction in Dubai is managing and raising the level in this competitive class. His unwavering dedication to perfection has brought the whole programme to a higher level, and it is continually improving. To ensure Envy Scooters have depth for the future, the team have also included our youngest crew, Stuart Skinner, who has graduated from the RQYS Youth Development programme on the very successful Beneteau First 40.7 – "Beachball", the training ground for the future. His older brother Curtis (Bow) has been involved in the programme from the Melges 32 days and is an integral mentor to the team.
Owner and Skipper, RQYS Vice Commodore Barry Cuneo understands and emphasises the need to keep bringing new talent into these high-performance boats to ensure future proofing of competent crews. Thirty percent of the crew have been involved in the youth focused Melges 32 campaign previously driven by the ENVY Scooters Sailing Team.
Competitor Details
| | |
| --- | --- |
| Yacht Name | Envy Scooters |
| Sail Number | RQ0052 |
| Owner | Barry Cuneo |
| Skipper | Barry Cuneo (3) |
| Navigator | Will Harris |
| Crew | Ashley Deeks (10), Brian Donovan (5), Curtis Skinner (7), James Paterson (7), Josh Torpy (4), Kevin Costin (14), Matt Parrott (2), Paul Hermann (8), Rafa Trujillo (4), Rory O'Sullivan (1), Stuart Skinner, Todd Anderson (4) |
| State | QLD |
| Club | RQYS |
| Type | TP 52 |
| Designer | Judel Vrolijk |
| Builder | King Marine |
| Construction | Carbon Fibre |
| LOA | 15.85 |
| Beam | 4.4 |
| Draft | 3.6 |