Rio 100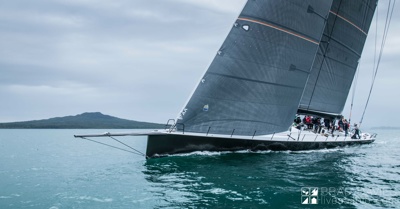 RIO 100, is an American entry known better to the Hobart race as Zana, Konica Minolta and Lahana. Built as a 98-footer named Zana for its New Zealand owner in 2003, RIO 100, according to new proprietor Manouch Moshayedi, has been extensively modified and lengthened to 100-feet. She is also sporting a new silver/grey paint job, magnifying an undeniably sleek appearance.
The yacht's water ballast was removed by cutting off the back 50 foot section and a new wider, longer stern has made it six to seven tonnes lighter than it was as Lahana. It also sports a new, longer boom, a new longer bowsprit and the wheels have been pushed back. Some other modifications, undertaken by Cooksons in New Zealand and overseen by Moshayedi's boat captain Keith Kilpatrick, include a lifting keel (14-19-feet) so it can be taken into western US marinas, and twin rudders. The refit took nine months with around 20 to 25 people working on it seven days a week.
Although his yacht has experienced the Rolex Sydney Hobart seven times under her various names and owners, it will be Moshayedi's debut. The 2014 will the yacht's last Rolex Sydney Hobart. Moshayedi, a computer technology magnate from the USA, will base his new acquisition at Newport Beach, California.
Competitor Details
| | |
| --- | --- |
| Yacht Name | Rio 100 |
| Sail Number | USA2121 |
| Owner | Manouch Moshayedi |
| Skipper | Manouch Moshayedi |
| Sailing Master | Keith Kilpatrick |
| Navigator | Peter Isler (1) |
| Crew | M Howard (1), R Bouzaid (1), M Mottl (1), P Van Nierkerk, S Covreux, B Jenkins, G Brady (1), J Penrod, T Wolk, J Messano, J Freeman (1), S Kemp (1), M Gutenkunst, N Partridge, D Macleod (1), M Van Dyke, N Vindin (1), M Pentecost, B Farrand, S McLean, S Graig |
| State | USA |
| Club | SYC |
| Type | Bakewell White 100 |
| Designer | Bakewell White |
| Builder | Cooksons |
| Construction | GRP |
| LOA | 30.48 |
| Beam | 5.25 |