Ragamuffin 100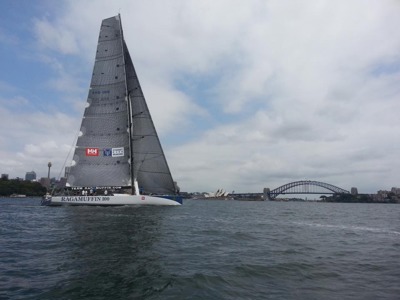 Fischer has had a new hull fitted to this Ragamuffin. Fischer's team have been working quickly now to ready the 100-foot boat for this year's race. The first big job was to attach the heavily modified deck of the previous Ragamuffin 100 (which took line honours in the 2011 race as Investec Loyal) and add the new keel. Water ballasted, the virtually new super maxi boasts twin rudders, a 6-metre beam, 6-metre draft and has been refitted with the rig from the previous Ragamuffin. Fischer, who took line honours in the 1988 and 1990 Hobart races, with an overall win in 1992, aboard previous Ragamuffins, is hoping this is the yacht to secure him the trifecta of line honours wins.
Fischer will clock up his 47th Hobart race this year. He and the crew have sailed the slightly smaller Ragamuffin 90 to successive line honours victories this year in the Rolex South China Sea Race and the Okinawa Tokai Race, in which they also broke the race record. Originally launched in 1989 as Maximus, the yacht underwent a major rebuild in 2004, and was then lengthened from 98-feet to 100-feet in 2009 and renamed Investec Loyal. Last year, Fischer raced her as Ragamuffin Loyal and this year she will head south as Ragamuffin 100.
In October, Fischer was honoured with Yachting Australia's President's award. Among the Sydney yachtsman's many achievements are taking Hobart line honours with his German Frers maxi in 1988 and 1990, and winning it overall in 1992 with the former Will, a Farr 50. He has also been victorious in the CYCA's Blue Water Pointscore Series a record nine times, last winning in 2007/2008. He has finished top three since, until late last year, when he changed his TP52 for the super maxi while sitting in second place. These results culminated in Fischer winning Ocean Racer of the Year on multiple occasions.
Competitor Details
| | |
| --- | --- |
| Yacht Name | Ragamuffin 100 |
| Sail Number | SYD100 |
| Owner | Syd Fischer |
| Skipper | Syd Fischer (49) |
| Sailing Master | David Witt (20) |
| Navigator | Matt Humphries (1) |
| Crew | A Crowe (18), C Knox (1), C Wild (1), C Malouf (7), F Galleta (1), J Macartney (1), J Fisher (3), J Shave (1), L Woulfe (1), M Fullerton (1), M Pearce (19), P Britt (1), T Clout (15), G Wharington (25), M Ashley-Jones, B Fischer, V Dudley (15) |
| State | NSW |
| Club | CYCA |
| Type | Dovell 100 |
| Designer | Dovell |
| Builder | Ragamuffin Yachting |
| Construction | Carbon |
| LOA | 30.48 |
| Beam | 6.0 |
| Draft | 6.0 |